RAF-Bomber Command Memorial 2012
On June 28, 2012, the RAF Bomber Command Memorial was unveiled by Queen Elizabeth II in London to commemorate the crews who lost their lives on missions.
The Memorial, located at Piccadilly, near Hyde Park Corner, was built on the occasion of the sacrifice of 55,573 kites from Great Britain, Canada, Czechoslovakia, Poland and other Commonwealth countries.
Liam O'Corner designed the monument, made of Portland stone, while the centerpiece is a 2.7-meter-high bronze sculpture - designed by Philip Jackson - of a 7-man Bomber Command crew returning from a mission.
.
<![if !vml]>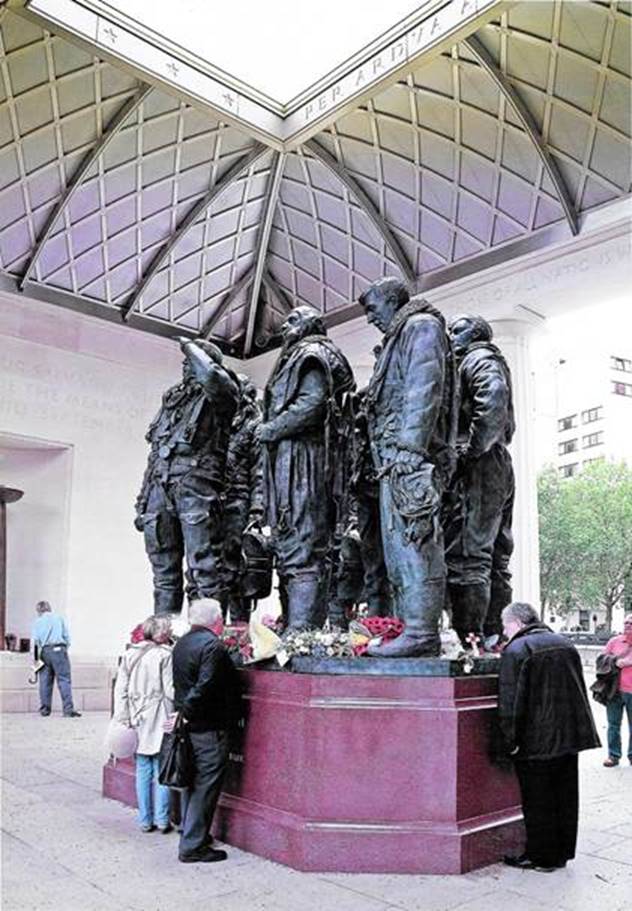 <![endif]>
The design of the roof was inspired by a Vickers Wellington aircraft and contains aluminum parts of a bomber - the Halifex LW682 of the 426th squadron of the Royal Canadian Air Force - shot down over Belgium on 12 May 1944 and disappeared into a swamp with three more crew members , while five were buried in the cemetery of Geraardsbergen.
This Halifex was salvaged in 1997 with the remains of the 3 crew members still on their posts.
The three were buried with military honor on November 11, 1997 in the presence of ao family members at the cemetery of Geraardsbergen, after which the crew was reunited forever.
At that time almost no one had noticed a gray man among the audience. It was Martin Drewes (1918-2013), the German pilot who killed three bombers on the night of 13 May, including the Halifex LW682, insisted on attending the funeral of his former opponents. An emotional scene unfolded, as the former pilot was reluctantly approached by the family members, who reached out to him. Marjorie Wyse, the sister of the Canadian tail gunner, asked Drewes "may I give you a hug" and a moment later they fell into each other's arms.
A particularly nicer gesture was hardly conceivable.
Source: From the archives of J. Zengerink
For more information about the LM158 and the crew:
www.kinderen-in-eerbeek.nl/Information-LM158.htm
or follow the QR code:
<![if !vml]>
<![endif]>